My Blog
Posts for: September, 2020
By Richard C. Ostberg, DMD
September 16, 2020
Like most people, you've no doubt experienced occasional dry mouth as when you're thirsty or just waking from sleep. These are normal occurrences that usually don't last long.
But xerostomia or chronic dry mouth is another matter. Not only is this continual lack of adequate saliva uncomfortable, it could increase your risk for tooth decay or periodontal (gum) disease.
What's more, chronic dry mouth can have a number of causes. Here are 3 common causes and what you can do about them.
Inadequate fluid intake. While this may seem obvious, it's still common—you're simply not consuming enough water. This deprives the salivary glands of adequate fluid to produce the necessary amount of saliva. If you're regularly thirsty, you'll need to increase the amount of water you drink during the day.
Medications. More than 500 drugs, both over-the-counter and prescription, can cause dry mouth as a side effect. This is one reason why older adults, who on average take more medications, have increased problems with dry mouth. There are some things you can do: first, talk with your healthcare provider about alternative drugs for your condition that are less likely to cause dry mouth; drink more water right before taking your medication and right afterward; and increase your daily intake of water.
Diseases and treatments. Some systemic diseases like diabetes or Parkinson's disease can lead to xerostomia. Autoimmune conditions are especially problematic because the body may turn on its own tissues, the salivary glands being a common target. Radiation or chemotherapy treatments can also damage the glands and lead to decreased saliva production. If you have such a condition, talk with your healthcare provider about ways to protect your salivary glands.
You can also ease dry mouth symptoms with saliva boosters like xylitol gum or medications that stimulate saliva production. Limit your intake of caffeinated drinks and sugary or acidic foods. And be sure you stay diligent with your oral hygiene habits and regular dental visits to further reduce your risks of dental disease.
If you would like more information on the causes and treatments of dry mouth, please contact us or schedule an appointment for a consultation. You can also learn more about this topic by reading the Dear Doctor magazine article "Dry Mouth: Learn about the Causes and Treatment of this Common Problem."
By Richard C. Ostberg, DMD
September 06, 2020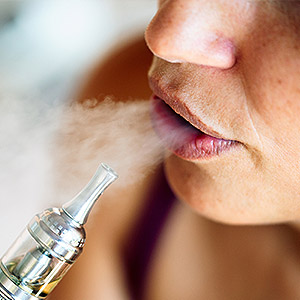 There's ample evidence tobacco smoking increases your risk for tooth decay and periodontal (gum) disease. But the same may be true for electronic cigarettes (E-cigs): Although millions have turned to "vaping" believing it's a safer alternative to smoking, there are growing signs it might also be harmful to oral health.
An E-cig is a device with a chamber that holds a liquid solution. An attached heater turns the liquid into a vapor the user inhales, containing nicotine, flavorings and other substances. Because it doesn't contain tar and other toxic substances found in tobacco, many see vaping as a safer way to get a nicotine hit.
But a number of recent research studies seem to show vaping isn't without harmful oral effects. A study from Ohio State University produced evidence that E-cig vapor interferes with the mouth's bacterial environment, or oral microbiome, by disrupting the balance between harmful and beneficial bacteria in favor of the former. Such a disruption can increase the risk for gum disease.
Other studies from the University of Rochester, New York and Universit? Laval in Quebec, Canada also found evidence for vaping's negative effects on oral cells. The Rochester study found astringent flavorings and other substances in vaping solutions can damage cells. The Quebec study found a staggering increase in the normal oral cell death rate from 2% to 53% in three days after exposure to E-cig vapor.
Nicotine, E-cig's common link with tobacco, is itself problematic for oral health. This addictive chemical constricts blood vessels and reduces blood flow to the mouth's tissues. This not only impedes the delivery of nutrients to individual cells, but also reduces available antibodies necessary to fight bacterial infections. Regardless of how nicotine enters the body—whether through smoking or vaping—it can increase the risk of gum disease.
These are the first studies of their kind, with many more needed to fully understand the effects of vaping on the mouth. But the preliminary evidence they do show should cause anyone using or considering E-cigs as an alternative to smoking to think twice. Your oral health may be hanging in the balance.
If you would like more information on the effects of vaping on oral health, please contact us or schedule an appointment for a consultation.