My Blog
Posts for category: Oral Health
By Richard C. Ostberg, DMD
August 07, 2020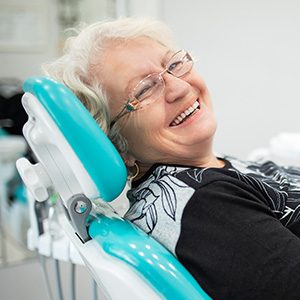 As we get older, we become more susceptible to chronic health conditions like diabetes, heart disease or arthritis. We can also begin to see more problems with our teeth and gums.
Whether it's ourselves or an older loved one, oral health deserves a heightened focus as we age on prevention and prompt treatment. Here's what you can do to protect you or a family member's teeth and gums during the aging process.
Make accommodations for oral hygiene. Keeping your mouth clean of disease-causing plaque is important at any age. But it may become harder for someone getting older: Manual dexterity can falter due to conditions like arthritis or Parkinson's Disease. Older adults with decreased physical ability may benefit from larger gripped toothbrushes or those modified with a bicycle handle. Electric power brushes are another option, as are water irrigators that can do as effective a job of flossing as threaded floss.
Watch out for "dry mouth." Older adults often develop chronic dry mouth due to saliva-reducing medications they might be taking. It's not just an unpleasant feeling: Inadequate saliva deprives the mouth of acid neutralization. As a result, someone with chronic dry mouth has a higher risk for tooth decay. You can reduce dry mouth by talking with your doctor about prescriptions for you or a family member, drinking more water or using saliva boosting products.
Maintain regular dental visits. Regular trips to the dentist are especially important for older adults. Besides professional cleanings, dentists also check for problems that increase with aging, such as oral cancer. An older adult wearing dentures or other oral appliances also needs to have them checked periodically for any adverse changes to fit or wear.
Monitor self-care. As long as they're able, older adults should be encouraged to care daily for their own teeth. But they should also be monitored in these areas, especially if they begin to show signs of decreased mental or physical abilities. So, evaluate how they're doing with brushing and flossing, and look for signs of tooth decay or gum disease.
Aging brings its own set of challenges for maintaining optimum dental health. But taking proactive steps and acting quickly when problems arise will help meet those challenges as they come.
If you would like more information on dental care for older adults, please contact us or schedule an appointment for a consultation. You can also learn more about this topic by reading the Dear Doctor magazine article "Aging & Dental Health."
By Richard C. Ostberg, DMD
July 28, 2020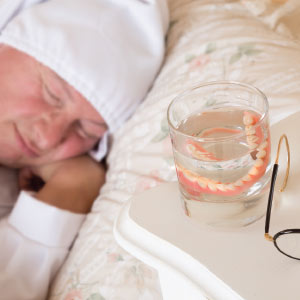 Maybe you don't like to be without teeth — ever. Or maybe you get a little forgetful sometimes. Whatever the reason, if you're wearing your dentures to bed at night, we have one message for you: Please stop!
Sleeping in dentures can have serious health consequences. A recent study published in the Journal of Dental Research found that nursing home residents who wore their dentures to sleep were 2.3 times more likely to be hospitalized or even die of pneumonia as those who did not sleep in dentures. But how can wearing dentures at night more than double your chances of getting a lung infection?
As the study noted, pneumonia-causing bacteria can readily be moved from the mouth to the lungs simply by breathing. And dentures that are not removed at night can become breeding grounds for all kind of bacteria and fungi (such as yeast). That's what makes them potentially dangerous.
Another condition often seen in people who wear upper dentures continually is called denture stomatitis, which is characterized by a red, inflamed palate (roof of the mouth) that has been infected with yeast. The yeast microorganisms can also infect cracked corners of the mouth, a condition known as angular cheilitis. Moreover, it has also been shown that people who sleep in dentures have higher blood levels of a protein called interleukin 6, which indicates that the body is fighting an infection. Need we go on?
Wearing dentures is supposed to improve your quality of life, not reduce it. So promote good health by taking your dentures out at night, and sticking to a good daily oral hygiene routine:
Remove and rinse your dentures after every meal.
Brush your dentures at least once a day with a soft toothbrush or denture brush and dish soap, liquid antibacterial soap, or denture cleanser (but don't use toothpaste — it is too abrasive).
Store your dentures in water or a solution made for this purpose.
Brush your gums and tongue every day with a soft toothbrush (not the same one you clean your dentures with).
Rinse your dentures in clean water before you put them back in your mouth.
If you would like any more information on dentures and oral hygiene, please contact us or schedule an appointment for a consultation.
By Richard C. Ostberg, DMD
July 18, 2020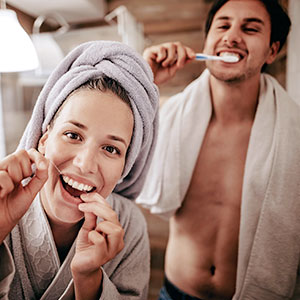 Brushing and flossing are two of the best things you can do to fight dental disease and maintain healthy teeth and gums.
Or is it flossing and brushing? What we mean is, should you floss first or brush first?
There's virtually no debate among dental professionals about whether or not to perform both hygiene tasks. While brushing removes disease-causing plaque from the broad surfaces of teeth, flossing gets to deposits of this disease-causing, bacterial film lodged between the teeth that brushing can't reach. You don't want to neglect one task over the other if you want to fully minimize your risk of tooth decay or gum disease (and don't forget semi-annual dental cleanings too).
But where there is some debate—good-natured, of course—among dentists is over whether it's better hygiene-wise to brush before flossing or vice-versa. For those on Team Brush, you should pick up your toothbrush first for the best results.
By brushing before you floss, you'll remove most of the plaque that has accumulated since your last cleaning session. If you floss first, the flossing thread has to plow through a lot of the plaque that otherwise might be removed by brushing. For many, this can lead to an unpleasant sticky mess. By removing most of the plaque first via brushing, you can focus your flossing on the small amount left between teeth.
Team Floss, on the other hand, believes giving flossing first crack at loosening the plaque between teeth will make it easier for the detergent in the toothpaste to remove it out of the way during brushing. It may also better expose these in-between areas of teeth to the fluoride in your toothpaste while brushing. And because flossing is generally considered a bit more toilsome to do than brushing, tackling it first could increase the likelihood you'll actually floss and not neglect it after brushing.
So, which task should you perform first? Actually, it's up to you: Weighing both sides, it usually comes down to which way is the most comfortable for you and will give you the greatest impetus for flossing. Because no matter which "team" you're on, the important thing is this: Don't forget to floss.
If you would like more information on personal dental care, please contact us or schedule an appointment for a consultation. You can also learn more about this topic by reading the Dear Doctor magazine article "Daily Oral Hygiene."